Meet Our Doctor
Dr. Jacklyn Azarian
At Dental Care Studios, we are passionate about one thing….excellence in dentistry in a caring environment.  Our knowledgeable dental team prides itself on using the most advanced technology and dental materials available.  We are proud to be one of the leading cosmetic practices in the country.  We provide dental care that is both lasting and attractive.  From the care we provide to the atmosphere of our office, we are dedicated to giving you the ultimate dental experience. Dr. Azarian was chosen as one of Los Angeles' Top Docs in the 2011 Top Doc Magazine. Dr. Azarian specializes in family dental care and has years of experience treating kids and adults.
Education
Royal Dental University Denmark 1994
University of California Los Angeles
Continuing Education
Facial Esthetics in dentistry
The latest technology and technique for porcelien veneers
Innovation in modern endodontics
Dentist advantage home study risk management
Advanced Endodontics Technique
Adhesive and esthetic dentistry
Invisalign Certified
Implant A to Z at UCLA School of Dentistry
Lumineers Certification
Certification
Professional level CPR and AED
Member
American Dental Association
California Dental Association
San Fernando Valley Dental Association
Glendale Academy of Dentists
Dr. Jacklyn Azarian
​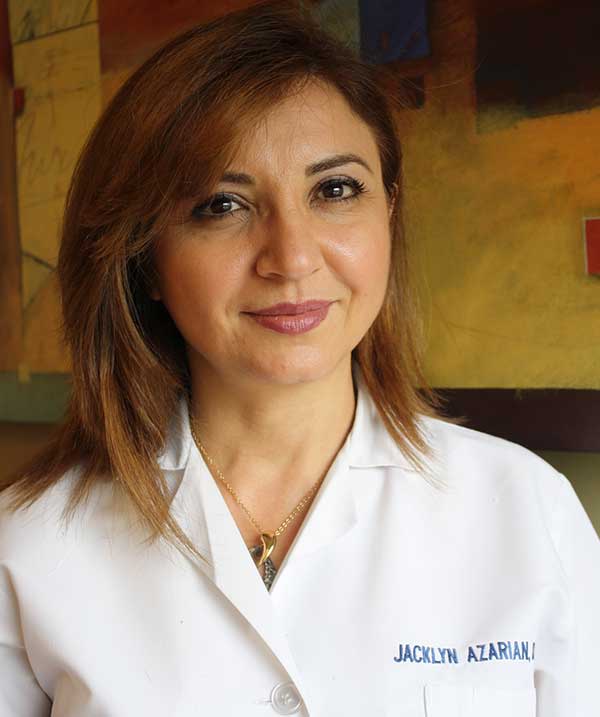 Dental Care Studios
1141 North Brand Blvd. Suite 500
Glendale, California 91202
Mon: 7 am – 3:30 pm
Tues: 8 am – 5 pm
Wed: 9 am – 6:30 pm
Thurs: 8 am – 5 pm
Fri: 7 am – 2 pm
Sat (3rd only): 9 am – 2 pm
Dental Care Studios  offers the most effective dentistry for Teens, Adults and Families looking for a dentist in Glendale and surrounding areas near Glendale, California.
Dr Jacklyn Azarian, offers the most advanced dentistry for teens and adult including;general dentistry; cosmetic dentistry, Invisalign for adults, Invisalign for teens, and more. Call:818.240.3700for a Consultation for dentistry, implants, teeth whitening or Invisalign at our Glendale, CA dentist office.